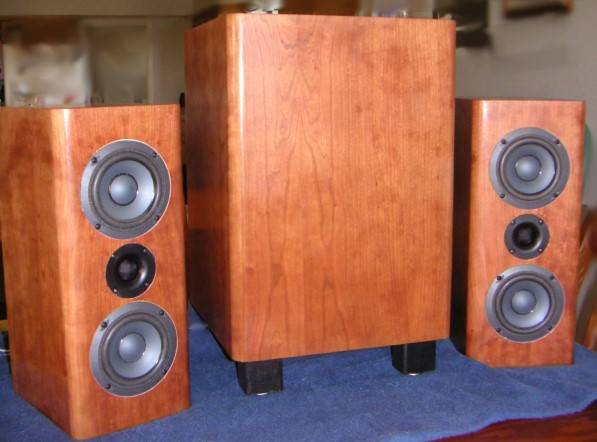 I started building speakers with kits from Audio Concepts (ACI). ACI is now out of the kit business but still makes some of the best "ready made" speakers around. When they closed out the kits, I bought three of their SV-10 subwoofer drivers. IMHO this is one of the best sealed box subs around. ACI still uses this driver in their Force subwoofer. With some room gain this little beast will pump into the mid 20's. The diminutive size makes it a great choice for smaller listening rooms. As a sealed unit, it's easy to blend it with most mains. The downfiring design is both aesthically pleasing and adds some pet/kid proofing.
As I understand it, this driver is still available from Meniscus Audio as the SW-1084. The specs are indeed impressive. (Click here for PDF of original sheet). I've done two downfiring subs using this driver. My original design was a bit more complex and can be found here. The satellites are my Azurite 25 design.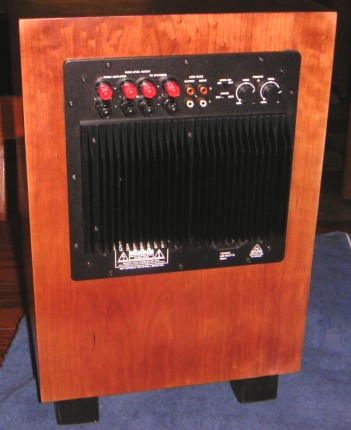 I built this version out of 3/4" Baltic birch with just a few cross braces and found it adequately stiff. It uses the PE 300-804 240watt sub amp -- a very nice, powerful, clean amp.
Box construction is very straight forward. The box is 13" wide and 13" deep. The box is 18" high (not including the feet) Driver cutout is 9" Diameter. The baffle is recessed 3/4" into the bottom. I added 1" x 3/4" x 11 3/4" braces to the top, sides and front.
To make the feet, I laminated 4 layers of 3/4" plywood then trimmed them to 2.25" square and chamfered the interior corner. The legs are simply glued onto the baffle and sides of the box. By laminating the legs, I was able to drive in a 1" long threaded insert to accomodate 1/4" threaded spikes or feet. Inserts like these work best driven perpendicular to grain or layers.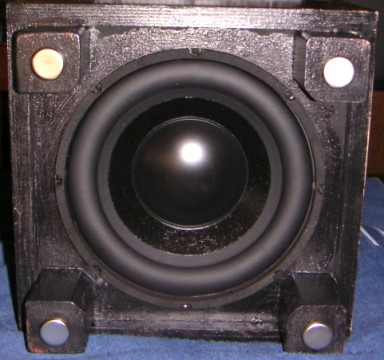 This particular sub/sat is covered with flat cut cherry. I created a water based dye stain and sprayed it to try and minimize splotching. A single coat of dewaxed shellac to pop the grain, followed by three coats of Fuhr 355 water borne acrylic lacquer. The bottom and legs are brush painted with black acrylic craft paint, and hand brushed poly over the black. I hand rubbed the final finish with 2000 grit paper.