Revised Xover for Enhanced Baffle Step (Added 17 July)
After trading emails with Darren K at PE and extended listening, I decided that the orginal crossover was just too thin for mains. (Though I may use it for the center channel). I spent some time with LspCad and came up with a revised crossover that ups the baffle step compensation to about 5 db.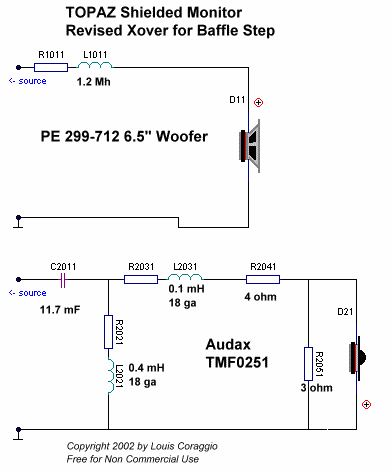 I had a couple of 14 ga 1.2 mh coils in inventory so I used them as a basis for the woofer. The major changes on the tweeter network included increasing the cap to 11.7 mf and revising the LPad. This effectively reduced the crossover frequency to about 2400 hz.
I was afraid that these changes would loose that wonderful detail I heard with the initial design. The revised version pretty much mitigated most of the thin bottom end but left the high end detail I liked. The mids are now a bit more laid back, and I picked up a hint of sibilance. Overall I am now quite pleased with the performance. These are very capable standalone monitors. Bass heads will probably want a sub. The Topaz should be a fine HT monitor.
I believe that this Audax tweeter is the real deal. Very crisp detail, lots of air. Lovely on vocals and wind instruments. Very clear vocals, virtually no sibilance, excellent image and soundstage. Decent depth and placement.